When you think about leather patches, the first image coming to mind is an old professor with patches on their sweaters. But, that was not the first use of patches – they have an exciting history – people started using them to sew their clothes long ago, and soldiers used them in WWI to protect their elbows during crawling in the trenches. People started using them for decorative purposes, and organizations now use them for branding and promotions. People love to show their passion, individuality or belonging to a group using them. Motorcycle groups and leather patches go hand in hand; they use custom leather patches on jackets, hats, and other ways.
What are custom leather patches?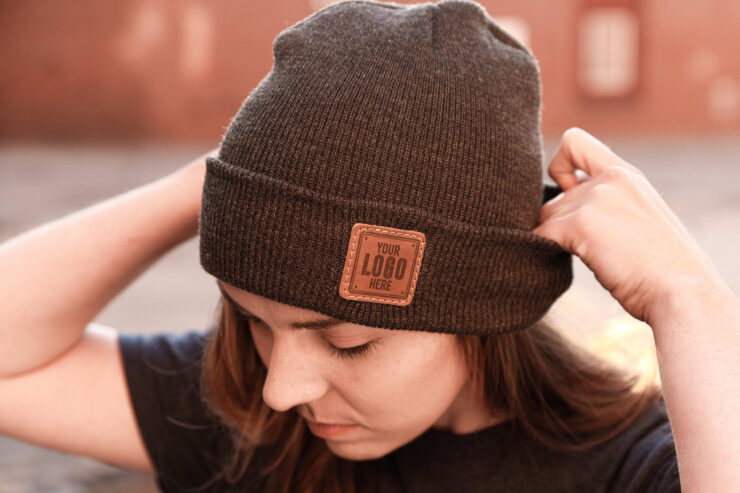 For functional, decorative, or promotional purposes, on-demand patches made from leather are known as custom leather patches. Depending on their use, we classify them into clothing and upholstery.
Custom leather patches for jackets: You must have seen someone wearing them on jackets to show their belonging to a particular group, especially motorcycle clubs. It can also be a reminder of a specific event.
Leather patches on jeans: The younger generation uses this to show their favorite rock band or celebrities.
Leather patches for the military: The military patches show the person's name, unit, and accomplishments. They are treasured, and people collect them like coins.
Leather patches for life-story: People use these to tell their life stories, places they have visited, and more.
Upholstery leather patches: These are for repairing couches or car seats, but sometimes people like to decorate them with leather patches.
There are two popular leather patches: Real leather and faux leather patches. You can find the difference according to look, feel, and durability.
Leather for the patches comes either from animal skin or vegan leather – artificial fabric that looks like leather without animal skin traces. Many varieties of faux leather or leatherette are created from different synthetic fibers – two of the most popular ones are PVC and polyurethane.
Let's dive into creating custom patches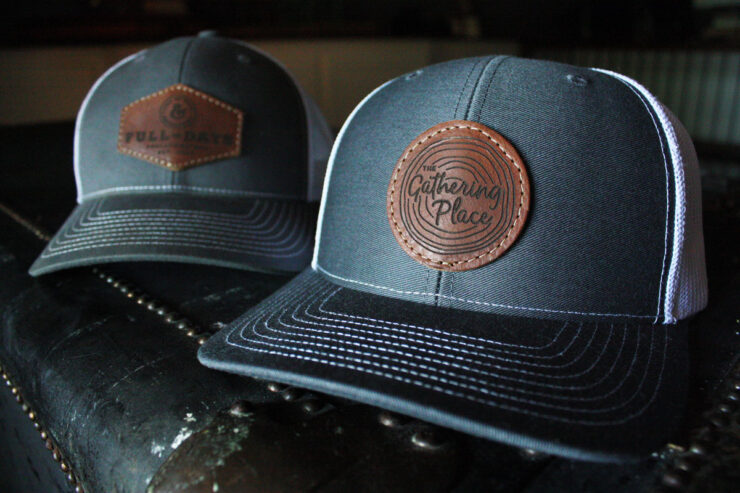 After choosing the design for the patches, it is sent to the manufacturer – unless you are doing it yourself. Here, they create the finer details in the black portion because that needs to "beef up" with an offset path operation in the design software to compensate for the laser beam's charring area. It expands the bounds of the selected path by the chosen measurement, giving better details.
They then tape or mask it to prevent smoke and other residues from marrying the not etched surface. Manufacturers do it for etching away large portions of leather if your design has a lot of black areas.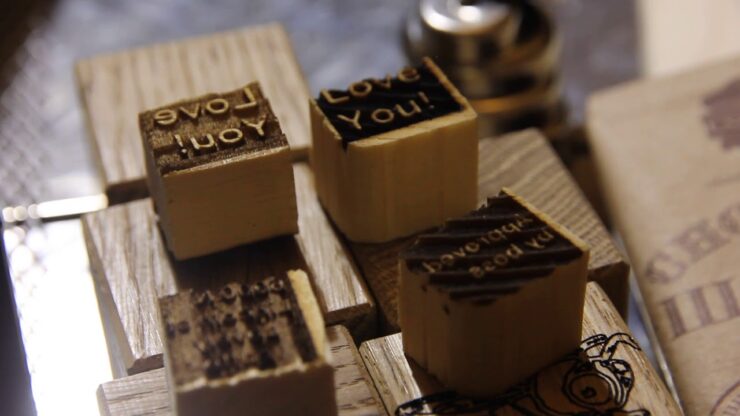 This is a straightforward process with manufacturers using low-power settings on the laser to etch the surface. They use a bit more energy for cutout passes and faster strokes, and they don't mask when etching details and not etching around the design.
After the laser etching is done, they clean up the leather patches using alcohol wipes, air compressor, etc., to remove fine dust particles from the design.
Now, they apply the backing on the custom leather patches. The best backing for leather patches is sew-on, velcro, and adhesive, and you can choose to accord to your needs and likings. If you want a permanent backing, choose sew-on, and for the faster application, you can go with velcro backing.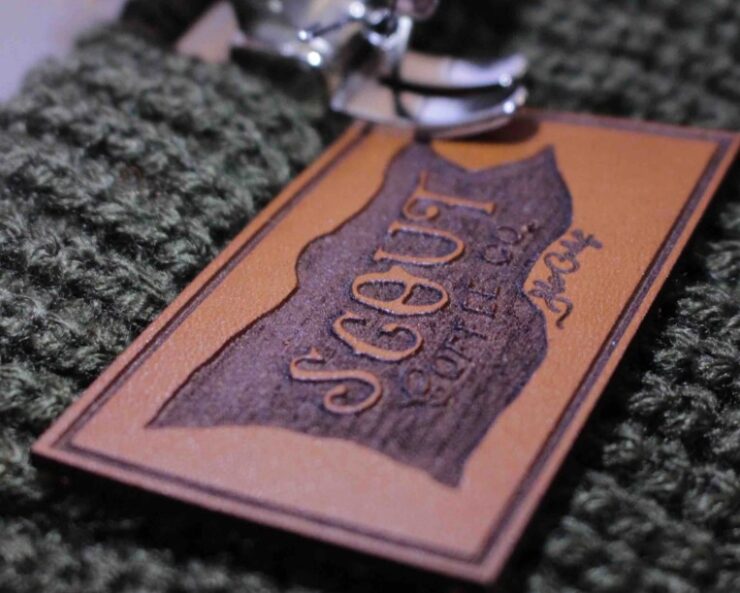 You can choose various apparel like jackets, hats, jeans, backpacks for your custom leather patches. Velcro backing gives you the freedom to distribute them, and people can use it on their favorite apparel.
How to use custom leather patches for branding?
Custom leather patches are excellent for branding; here are some of the most popular ones: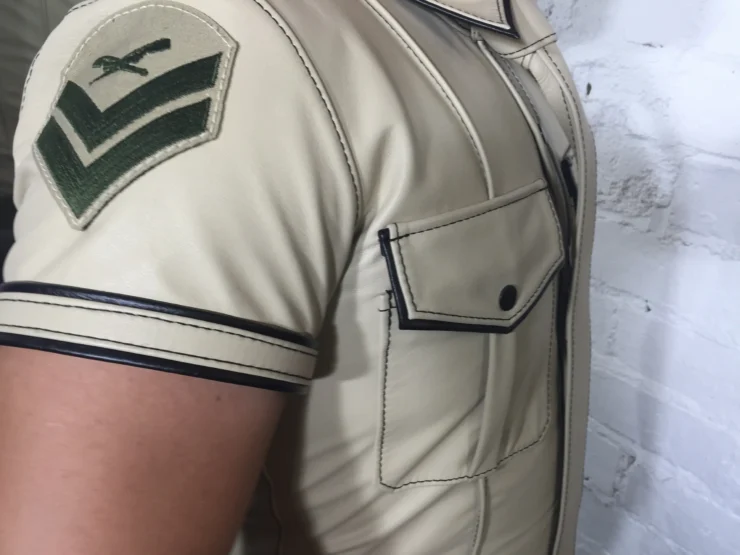 Leather patches look classy and sophisticated – as an organization, you can sew them onto employees' uniforms for a professional look and branding standpoint. Although various companies use plastic or metal name tags, they don't positively affect your customers and clients because of their looks. A plastic name card and classy leather patches are worlds apart in professional settings.
You can giveaway leather patches with your business logo with self-stick backing to people. It makes it convenient to use for people on any clothing they like – it is a suitable strategy because you can give them away at local events, making a name for your business.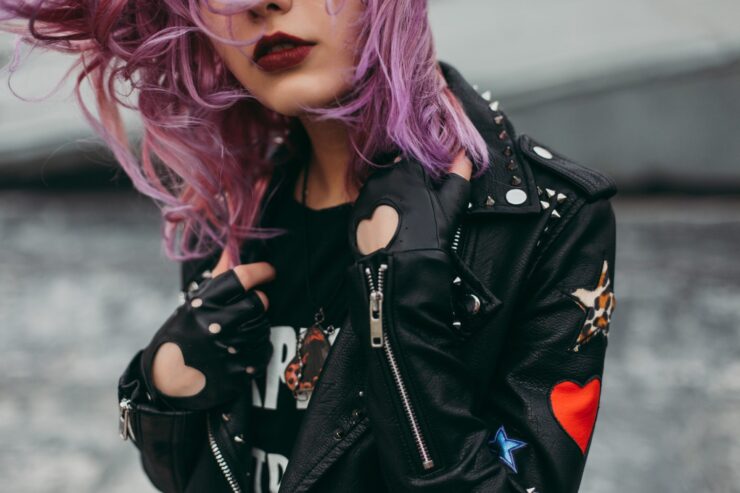 You can also sell custom patches as a standalone item or along with other things to target people who love leather patches.
Custom leather patches are classy and impressive to show individuality and enhance your business image, but you need a reliable manufacturer like EverLighten. They have over eighteen years of experience manufacturing leather patches for organizations, startups, NGOs, influencers, sports teams, and individuals.
They have their dedicated factory to manufacture custom leather patches and are not-middle men. They give you the best quality at the most competitive pricing.
Quality in every product:
They use only the highest-quality materials for creating every leather patch. Their quality inspectors check each product during manufacturing and shipping, so only the best product reaches you.
Real people, real service
At EverLighten, they love people! Whether you have a small order or bulk order, they are 100% dedicated to helping each customer from start to finish.
Focusing on customer satisfaction, they do whatever it takes to make the design match the design in your head with their in-house experts.
Fast turnaround with on-time delivery
They complete every order quickly; customers always get their delivery on time.
The company accepts every order without restrictions on the minimum order quantity.