The exchange of gifts has been a practice that has fostered outstanding bonds and has created an emotional connection in relationships, be it personal or professional. Gifts have been exchanged between nations and civilizations since times immemorial as a token of love and appreciation. Currently, corporate gifts are given by companies to their clients, business partners and even their employees.
However, a corporate present is not the same as a personal present that people give to their near and dear ones. Gift-giving in a professional setting needs certain etiquette which needs to be strictly followed. People can browse the internet to search for websites of organizations that help people give lovely, customized business thank you gifts.
Things To Keep In Mind While Giving Business Gifts
1. Keep It Classy
A corporate present should exude elegance and professionalism. Everything needs to be perfect, from the choice of gifts, the box in which the items are packed to the packaging. The present should be formal and adhere to certain levels of decorum. It could be a box of chocolates, souvenirs or a lovely showpiece.
Even the smallest detail needs the greatest attention. It is advisable to avoid flimsy paper for wrapping the presents. Handmade wrapping papers with bold single colors or geometric designs that give a professional look can be a suitable wrapping material. Also, it is better to avoid ribbons and stickers as a part of the packing. Instead of a flowery greeting card, a well-written thank you note should be attached to the gift.
2. Be Reflective Of The Company Values
The gift should represent the values that the business organization stands for. For instance, if the organization believes in environmentally sustainable production, the wrapping paper can be made from recycled paper. A thoughtful gift which reflects the motto of environment-friendly production like a small plant can also be given to clients and employees.
3. Take Care Of The Brand And Image
It would be a good idea to wrap the present in a gift wrap representing the brand colors. Also, a small logo printed on one of the corners will reflect the brand well. The presents can also be embossed with the company name, logo etc. If the present is a small showpiece with the brand logo embossed, then it could be a subtle way to promote the brand as well.
However, the logo or the brand name should be small. It should not look like a blatant attempt at publicizing the brand. Also, the entire process should be done diligently, from drawing out the names of people who would receive the gifts to the final dispatch of the presents. Last-minute corrections and misspelling of client names, especially if they belong to another country, can look disrespectful.
Likewise, the brand logo should be bright and must be seen clearly. Such simple things as avoiding last-minute additions or corrections reflect an organization's overall ethos and work culture. A client who has a keen sense of observation can be quick to notice such minute details, and it might have a potential impact on the future dealings of the organization.
4. Take Care Of The Timing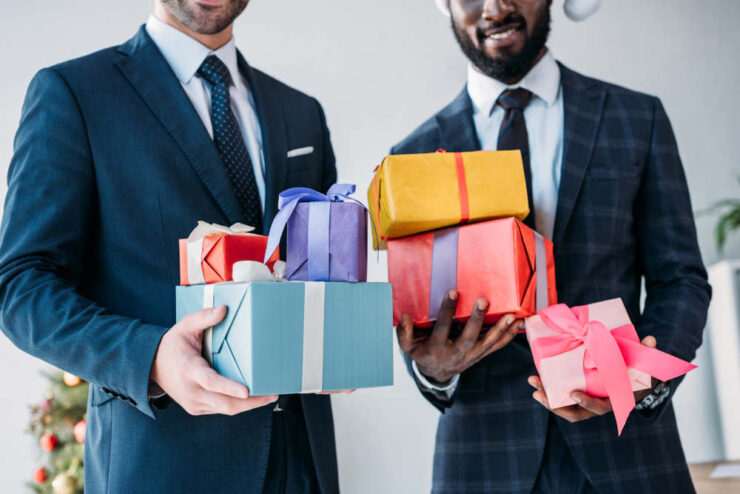 Usually, presents are exchanged on special occasions like festivals or when specific organizational goals have been fulfilled like a big deal has been signed etc. The timing of giving a gift is of crucial importance. For instance, if the gift is given right after or before a deal has been finalized, it could seem like a bribe to potential clients or partners.
Hence, it is important to take care of the monetary value of the item being given. If the monetary value is not high, then the chances of mistaking them for bribes are much less. Also, to avoid such confusion, it is better to go for a time when the deal was sealed quite some time ago.
The timing is also vital if the clients or partners belong to a different culture or country. For instance, if the clients are Japanese, a bag of goodies sent during their festivals and their new year will reflect sensitivity and a keen interest in other cultures.
5. Whom To Give
When sending out goodies to colleagues, care should be taken to give the same thing to every individual. This is because a good boss should not distinguish between his colleagues, and giving different things to different people might inadvertently hurt sentiments and breed feelings of jealousy.
Also, the item given should be such that it is equally useful for both sexes. This reflects that the organization is gender neutral. Thus, if one has a personal favorite, it is better to give them something separately and not in the office setting.
Giving presents is a beautiful way to motivate employees and encourage them to work harder. It shows that the bosses care about their employees, and they feel they are a part of a large family. Also, some companies have strict rules about what an employee can or cannot receive as presents. Hence, it would be a good idea to consult the human resource personnel before purchasing something for the employees.
6. How Much To Spend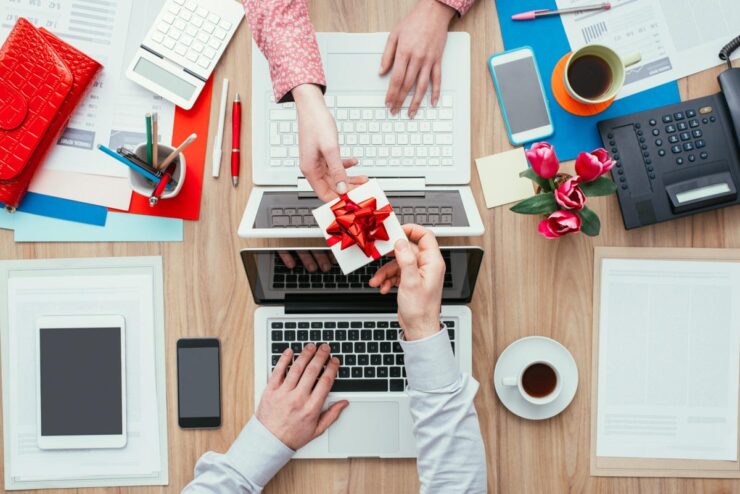 How much money should be spent while giving gifts is a key question that has haunted anyone who has ever given a present. A corporate gift cannot be cheap as it has to live to a certain standard.
However, it can neither be too expensive as it might be seen as a way to win favors in the long run. For such situations help from a professional company can be sought and they can offer good presents depending on the importance of the client, the occasion etc.
Conclusion
Giving and receiving gifts is a wonderful experience. It reflects values like trust and care. In order to give business gifts that are memorable, subtle and useful, at the same time, business heads can consult their employees or professional companies who can give valuable tips and advice on precautionary steps to avoid common pitfalls.