Deep cleaning refers to more intense cleaning procedures that are less common but vital. As a result, any business owner must know how often to deep clean their office. One thing to keep in mind regarding this type of cleaning is that you should use a professional cleaning company because they have the proper expertise, experience, and equipment. Cleaning floors and deep carpet washing, sanitizing all surfaces, steam cleaning, and many more tasks fall into this area.
For the health and safety of your staff, deep cleaning is essential. Germs, mold, and other hazardous chemicals can accumulate without it, causing sickness. Deep cleaning, on the other hand, does not have to be done on a regular basis. Of course, this would be prohibitively expensive and ultimately pointless. So, how frequently should your office be thoroughly cleaned?
What is the difference between deep cleaning and routine cleaning?
A deep clean is a cleaning method that is more thorough. A workspace cleaner is likely to keep a relatively clean and tidy environment under normal conditions by following a basic cleaning schedule that includes hoovering, dusting, and light cleaning. A deep clean will sanitize and clean all of the surfaces, and corners of your workspace. Spring has always been an excellent time to remove the cobwebs and start over, so what better time to get started than now?
Factors That Will Help You Decide How Often Should You Deep Clean Your Office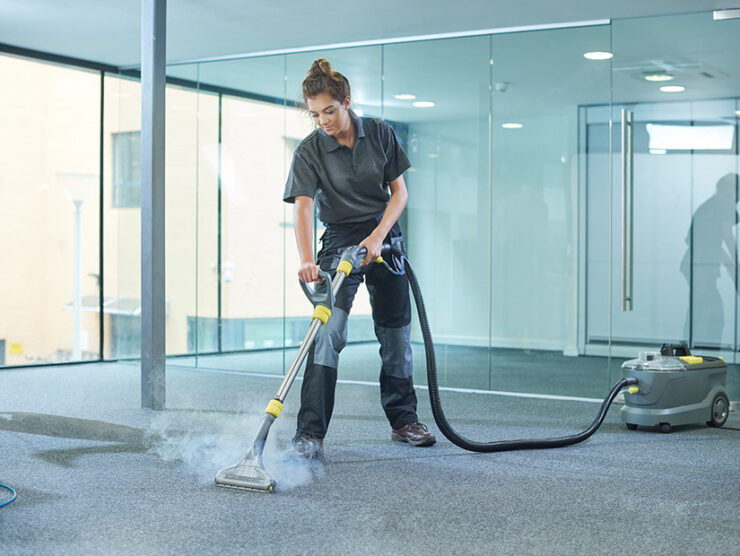 The greater the number of employees or people who share your area, the more cleaning is required. There will be increased dirt collection with more foot traffic into your premises, especially if it is raining. As a result, if it's the rainy season, you should consider cleaning your carpets every two weeks or once a week. You should consider wet mopping at least once a week or every three days in addition to cleaning your floors with a dry vacuum or basic brooming.
Hiring a professional cleaning service like JAN-PRO with a high level of training will ensure that your workplace gets the regular cleaning it needs.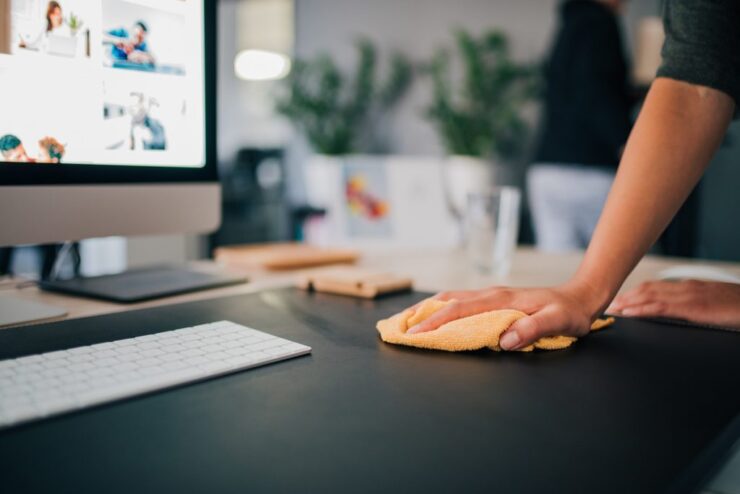 When it comes to establishing a cleaning regimen, the size of your premises is also a factor. The more square footage you have, the more cleaners you'll need. In such instances, you should divide your workspace into distinct zones and clean specific zones every day for the duration of the week to ensure that you are always clean.
The characteristics of an office, as well as the features found within it, play an important role. A workplace which has a lot of carpets, for example, should have more commercial office cleaning than one with few or no carpets. Germs, grime, and dust adhere more readily to carpet than to hardwood or tile flooring.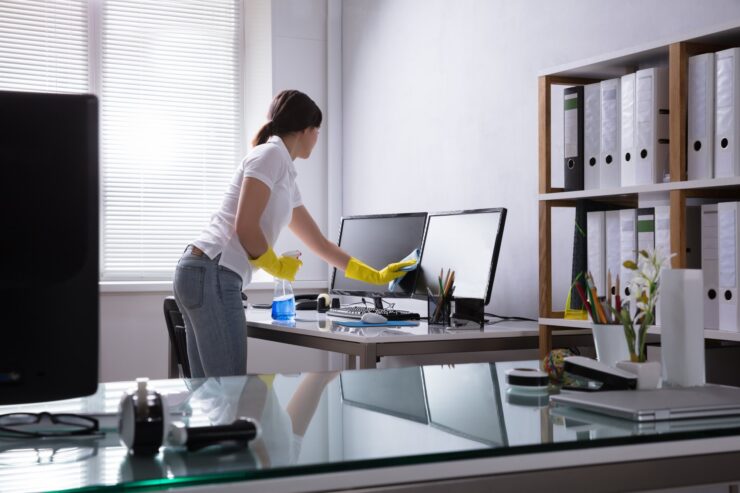 The cleanliness of an office building is influenced by the number of enterprises that use it. The number of employees in a shared building grows, necessitating more frequent commercial cleaning. It's also important to consider the types of businesses that use the same venue.
Sharing an office building entails using the same toilets and kitchen facilities. You may require daily restroom or food preparation facility cleaning, regardless of how often your office building is cleaned, because bacteria can thrive in these places and spread throughout the office if they aren't kept clean.
Seasons, it turns out, can have an impact on how often a business needs to be deep cleaned. Cold and flu season is upon us, which may necessitate comprehensive cleaning in order to protect personnel from outbreaks. During the winter, foot activity will attract mud, snow, and sleet, necessitating more deep cleanings.
Even in milder climates, where it doesn't snow during the winter months, businesses can benefit from deep cleaning services. In San Diego, where tree and grass pollen are prevalent, a janitorial service provider can help minimize allergies by improving indoor air quality and deep cleaning carpets. The Asthma and Allergy Foundation of America recommends your commercial carpets be cleaned several times per year.
Why Should You Choose Deep Cleaning?
The advantages of deep office cleaning go far beyond the removal of germs and bacteria. Employees are happier and more productive when their workplaces are spotless, and the overall sense of pride in the business rises.
Encourages people to be cleaner
If you set the tone early on that you operate a tidy office, you can expect your colleagues to do the same. Employees in many organizations have general principles for keeping their workspace clean but anticipate this to become even more embedded when they know their firm is investing in a clean environment for them. This entails providing antibacterial wipes and keyboard cleaners, but they are minor expenditures that reap large-scale rewards in terms of employee morale.
Defend Against Germ Spread
Is there a higher rate of illness in your workplace than usual? A deep cleaning may help reduce germs throughout the company, which can help keep staff healthier, whether it's the heart of cold and flu season or you've simply observed an upsurge in sick days recently. Employees that are healthy enjoy better job satisfaction, are more productive at work, and are less likely to take sick days. You can help prevent germs from stocking and reap the advantages of a healthy office by deep cleaning it on a regular basis.
When you conduct your deep cleaning, you get an opportunity to look around your office in a manner that you probably don't during the rest of the day. This helps you to see hidden dangers such as water leaks in the bathrooms, potential mold development, or weak spots in the floor that, if left addressed, might lead to major problems down the road. Then you can address such risks before they become more costly issues.
Conclusion
It is obvious that a clean and fresh work atmosphere keeps employees and visitors healthy when selecting how often to schedule your office cleaning. Many factors influencing the frequency of extensive commercial cleaning have been discussed in this article. It includes information such as the size and nature of your business, the number of businesses that share the same building, the cleaning process, the number of employees and visitors, and the areas that require cleaning. We hope that by considering these considerations, you can choose the optimal time to clean your office.