With changes in home renovation, interior design techniques, and a shift towards a sustainable environment, smart lighting has become an essential component. It is seen as the first step towards the automation and evolution of the smart home. Smart lighting solutions include decorative luminaires, LED bulbs, etc., by Philips Hue downlights.
Originally designed for energy efficiency, smart technology has considerably enhanced the security and convenience aspects for the user. With automated controls and effective fixtures via mobile apps, smart lighting allows fine adjustments for deliberate application, essential lighting, and security illumination.
These are designed for various purposes and come in different elements like lighting backgrounds, decorative lights, workstation lighting, home décor elements, etc.
What To Know About Smart Lighting?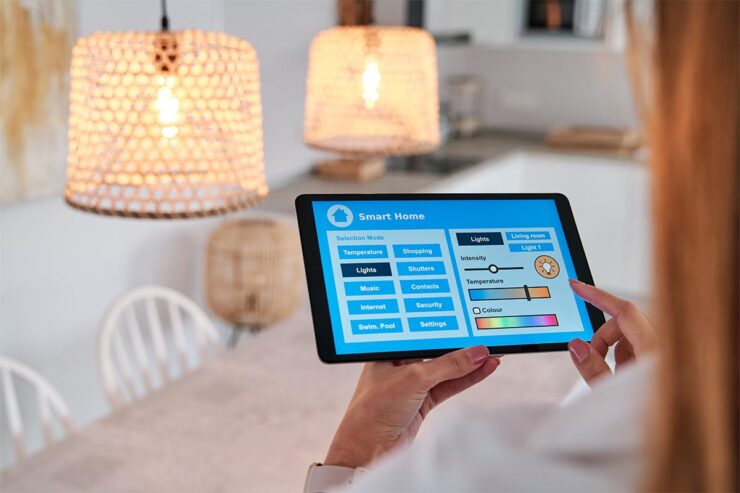 Smart lights let you control the lights in your house efficiently and effortlessly. Additionally, smart bulbs can connect to sockets, and the lighting can easily be controlled with a phone. It has never been simpler before to establish a mood in your house or tailor lighting as per your needs.
Control it with the app, your voice, or smart controls. You don't need to worry about your old switches, as they will still function. So, it's much more than only a sophisticated way to regulate the lighting of your house. Also, smart lights aid in enhancing and simplifying an individual's life quality.
What Are The Benefits of Smart Lighting Houses?
1. Increased Convenience With Smart Lighting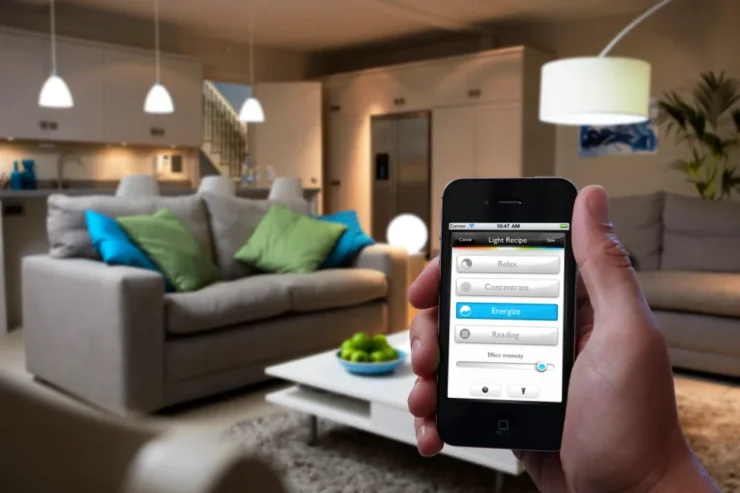 Smart lighting increases the convenience factor of living in the space significantly. It indicates easy usability and comfort across different areas. Once again, the sensors contribute to this benefit by anticipating the lighting needs of the occupants across different parts of the house.
2. Minimized Consumption Of Energy
Smart lighting can effectively control heating, cooling, and electrical appliances, with lighting. Also, controlling from a distance and automated features allow maximum energy saving. The system also reduces electricity consumption thanks to its occupancy and daylight sensing features.
3. Change The Mood With Smart Lighting Systems
Smart lighting can effectively change the lighting moods of a space as per control preferences. It allows us to characterize certain routine settings for a specific time and space. It enhances the performance and beauty of decorative lights, lighting background, and home décor lights.
4. Enhanced Security With Smart Lighting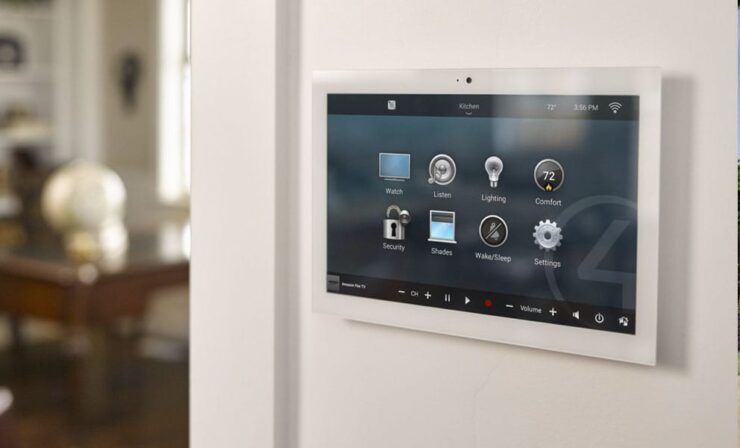 A smart system enables security illuminations and triggers floodlights at the breach point. It also allows automatic adjustments of lights in the house during holidays and vacations that create an illusion of presence.
It thus enhances the security of the house to a great level and minimizes the possibility of a breach through controlled access points.
Is There Any Need For Smart Lighting?
Over the last few months, the ongoing pandemic has led millions of workers to accommodate their work in their homes. Work from home structure has emerged as a new normal feature for millions of workers worldwide. With this development, the home has turned into a place of work alongside a place to relax.
With the increasing demands for a single space that meets the atmosphere and requirements of both working stations and living places, the necessity of smart lighting for the home has gained new ground. This smart lighting technology for the home actively minimizes energy consumption to a significant level, benefiting work from home workers to stabilize their electricity usage.
It also adds convenience allowing the utility of lights only when necessary while keeping track of the daylight control system. This lighting system is home helps to efficiently create an environment that suits both the moods of the workspace and relaxing space whenever required.
How To Plan A Smart Lighting System For The Home?
1. Working On A Plan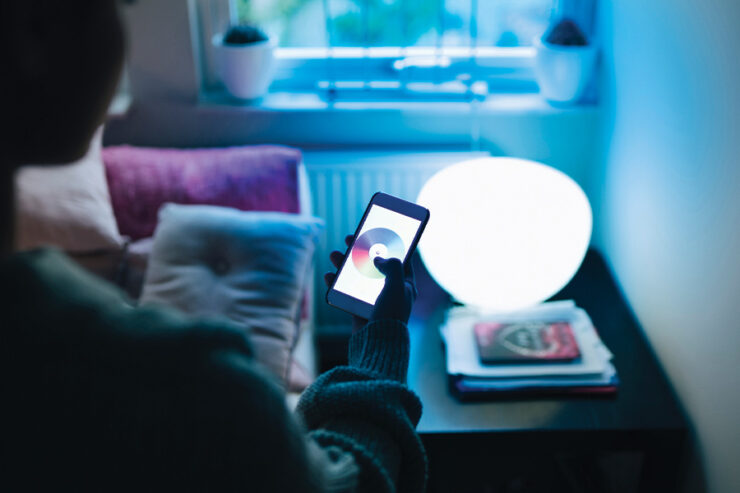 This is the most obvious and one of the most crucial parts before incorporating the lighting system at home. Thorough planning of the structure based on essential requirements and demands and weighing the advantages and disadvantages of each technology and platform in the market must precede the transformation. All the elements should maintain perfect sync to provide the safety and comfort of a home.
2. Choosing An Expert Dealer
Planning a smart home system means integrating and investing in the best technologies. Hence, choosing a dealer for all the necessary components of these lighting systems is absolutely necessary.
The dealer must have adequate expertise in the technical field of smart solutions and experience installing home automation systems.
3. Choosing The Best Network Security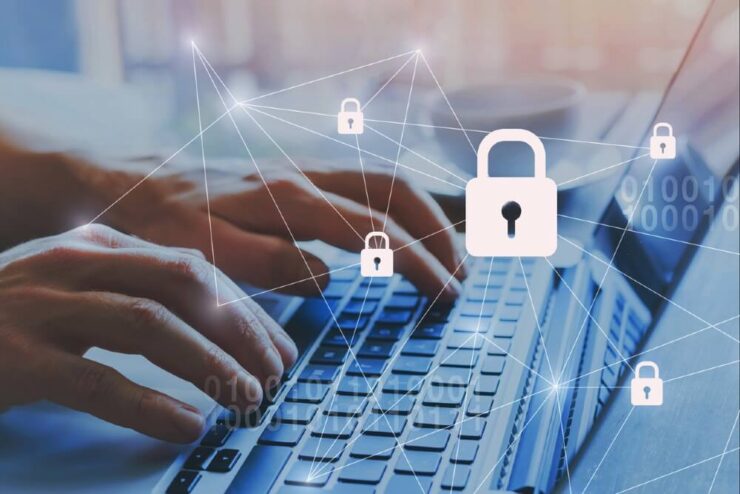 Since the core of smart lighting systems is access and control through online networks, security breaches and infringement can pose a huge threat to the overall structure. Hence, choosing professionally efficient network protection is another important factor to keep in mind while planning the system.
4. Considering Future Developments In Smart Lighting Systems
It is important to keep the future in mind while planning the smart home lighting and automation system. Track with multiple access and control options designed as per the family requirements.
It is an essential factor for better convenience. Planning ahead for the future before actually integrating the whole system will enable more prospects and open options that can be utilized at their utmost potential whenever necessary. Planning the entire thing ahead will also save a significant amount of additional expenditure on future re-modellings.
Conclusion
With these lights, one gets several benefits such as reduced electricity bills, energy efficiency, and environmental protection. Also, the unique features such as motion sensing, software integration with smart devices, and smart LED bulbs make them even more efficient.
But, there are a lot of factors that must be considered before choosing your smart solutions for your home. Also, these include choosing the right network security, selecting upgradable lighting solutions, and going for the best brands.
Several brands offer smart solutions for the home. But, you need to choose them carefully, considering the demands and limitations of your project.This article will let you go away with all the doubts about smart lighting.